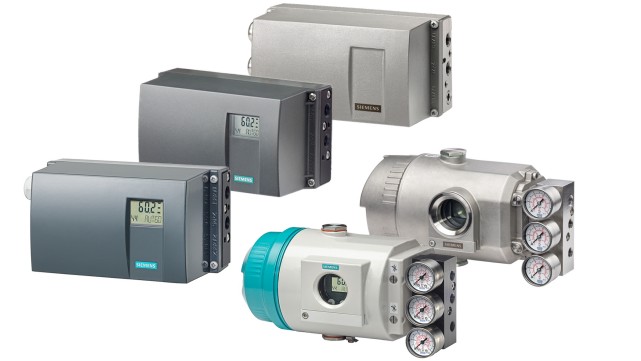 The SIPART PS2 electropneumatic positioners are used to control the process valve or damper position of pneumatic linear or part-turn actuators or via positioning cylinder according to the setpoint specification. A digital input can trigger holding of the position or approach of the safety setting of the process valve.
Design
The SIPART PS2 digital positioner comprises the following components:
Base plate with lid with/without inspection window, depending on the variant
Electronics with screw-type terminals:

4 to 20 mA
4 to 20 mA with HART
PROFIBUS PA according to IEC 61158‑2, bus-supplied
FOUNDATION Fieldbus (FF) according to IEC 61158‑2, bus-supplied

Position feedback via potentiometer or non-contacting sensor (NCS)
Pneumatic block
The pneumatic connections for supply air and actuating pressure are located on the right side of the enclosure. A gauge block, venting gauge block, booster, VDI3847 interface or a safety solenoid valve can be connected there as options. The SIPART PS2 positioner is fitted to the linear or part-turn actuator using an appropriate mounting kit.
Optional expansion with modules and functions
Optionally, SIPART PS2 can be expanded with the following modules and functions:
Analog Output Module (AOM)
Analog position feedback 4 to 20 mA.
Digital I/O Module (DIO) with 3 digital outputs and 1 digital input
Signaling of two limits of the travel or angle. The two limits can be parameterized independently as maximum or minimum values.
Output of an alarm if the setpoint position of the final control element is not reached in automatic mode or if a device/valve fault occurs.
2nd digital input for alarm signals or for triggering safety reactions, e.g. hold position or approach safety position.
Inductive Limit Switches (ILS)
Via the inductive switches, 2 independent limits can be set and monitored as NAMUR signal (EN 60947‑5‑6). The module also contains an integrated fault indicator (see "Digital I/O Module (DIO)").
Mechanic Limit Switches (MLS)
2 independent limits can be monitored via the mechanical switches. The module also contains an integrated fault indicator (see "Digital I/O Module (DIO)").
Valid for all modules described above:
All signals are electrically isolated from one another and from the basic unit. The outputs indicate self-signaling faults. The modules are easy to retrofit.
Separate mounting of positioner and position detection
Separate mounting of the positioner and position detection can be implemented with SIPART PS2. Only measurement of the stroke or angle, for example, is carried out directly on the actuator. This means that the positioner can be installed at a distance in a protected area. Components are connected electrically via a cable and pneumatically via tubes or pipes. The system is often advantageous if the ambient conditions at the valve exceed the specified values for the positioner (e.g. strong vibrations, radiation, magnetism).
Separate installation of the position detection and positioner SIPART PS2
Use for position detection
The following can be used for position detection:
SIPART PS2, NCS for strokes > 14 mm
Non-contacting sensor (NCS)
Position Transmitter
Linear potentiometers
Commercial sensors
Non-contacting sensor (NCS)
For SIPART PS2
Left: NCS for part-turn actuator (6DR4004‑.N.10) mounted on mounting console 6DR4004‑1D to 4D
Right: NCS for linear actuator (6DR4004‑.N.20) mounted with actuator-specific/customer-specific mounting solution
Position Transmitter
With potentiometer, with NCS, with NCS and ILS or with NCS and MLS for SIPART PS2.
Mounting takes place like with SIPART PS2.
Linear potentiometers
With 3K, 5K or 10 to 20 kΩ (e.g. pneumatic cylinder).
Commercial sensors
With 4 to 20 mA or 0 to 10 V (only with non-ex applications).